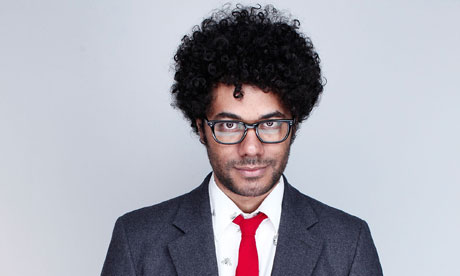 35 year old British comedian, actor, writer and director, Richard Ayoade, is best known for his role as 'Maurice Moss' in the British Channel 4 sitcom The IT Crowd. Ayoade was born in London and is the only child of a Norwegian mother and a Yoruba-Nigerian father. He studied law at Cambridge University.
His role on The IT Crowd is causing him to become a British household name, and in '08, he won the award for an outstanding actor in a TV comedy series at the Monte-Carlo Television Festival.
More recently, this well-known actor across seas is now fast becoming a Hollywood name. His role as Jamarcus in The Watch is putting him in the limelight as he acted alongside A-listers such as Ben Stiller, Vince Vaughn, and Jonah Hill. The Watch, which came out on July 27th, 2012, follows four neighborhood vigilantes (Stiller, Vaughn, HIll, and Ayoade) who try to keep their community safe from an alien invasion.