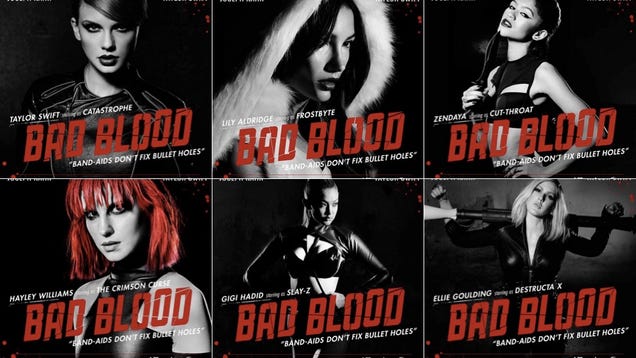 Taylor Swift did it again- another No. 1 on the Hot 100 chart- this time with her new single "Bad Blood" and it's must see music video. "Bad Blood", which features rapper Kendrick Lamar, went from No. 53 last week o
n Billboard's Hot 100 chart to now No. 1.
It's not just the catchy song people are talking about- the music video, which T-Swift herself produced, is full of Taylor's A-list friends. The star studded cast involves Gigi Hadid, Ellie Goulding Lena Dunham, Hailee Steinfeld, Zendaya and Lily Aldridge and of course Taylor's BFF, Karlie Kloss, just to name a few.
Taylor released each member of the cast with their screen names for the video, which each of them got to pick, on her twitter before it premiered at the Billboard Music Awards on May 17th.
WATCH MUSIC VIDEO HERE| TWITTER | TaylorSwift.com | Instagram