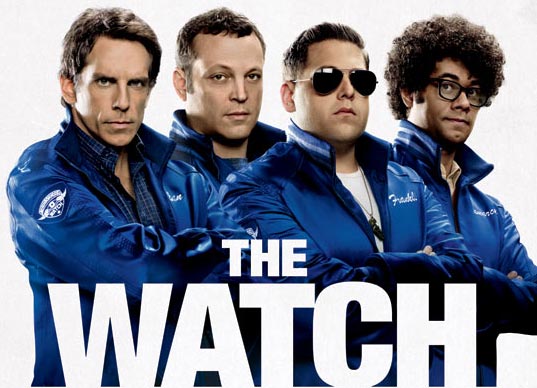 Guy-centric goofiness meets sci-fi in the new comedy The Watch. Four suburban guys come together to form a neighborhood watch, which is really an excuse to escape their routine lives for one night each week. The group is composed of a Costco manager named Evan (Ben Stiller), a spying father named Bob (Vince Vaughn), a local police reject named Franklin (Jonah Hill), and dorky Jamarcus (Richard Ayoade). However, when these men unsuspectingly discover that their town is teeming with aliens posing as ordinary, innocent suburbanites, they are forced to spring into action to save their neighborhood and their world.
Emmy Award Winner Akiva Schaffer, the man behind many popular SNL Digital Shorts and the comedic group, The Lonely Island, has undertaken the direction of this project. The Watch's winning team of writers even includes Seth Rogan, Evan Goldberg, and Jared Stern.  The film also features Billy Crudup, Will Forte, Rosemarie DeWitt, and Nicholas Braun.
This comedy dream team is slated to begin strutting their stuff in theatres July 27!
The Watch trailer: